2022 in review
January 20th 2023
Welcome back on our blog for this new year! We hope that you had a great holiday season and to kickstart 2023, like last year we'd like to make a review of our year 2022.
In spite of the crypto market krach that will have been a highlight of 2022, and the series of project collapses and dramatic bankruptcies that have followed (Terra/Luna, Voyager Digital, Three Arrows Capital, Celsius, BlockFi, FTX), the year will have been a very good one for Mt Pelerin as we have, compared to 2021, multiplied by:
x4 our user base
x3.3 our volumes and revenue
x2 the downloads of Bridge Wallet
These excellent results are of course the fruit of the many new things that we have introduced during the year:
No KYC required
The fact of not requiring to verify one's identity (KYC) before buying or cashing out crypto has been one of the highlights of our year 2022.
Made possible thanks to the Swiss regulation, that new feature has been highly appreciated in the crypto community, which strongly values privacy. Not having to pass a KYC is to not have to provide one's documents to a third party and minimize that way one's online footprint.
Beyond privacy, it was also a great simplification of our service process and a much better experience for users, who don't need to spend time identifying and waiting for a validation but can directly land at Mt Pelerin and make a purchase or a sale without delay.
Card purchases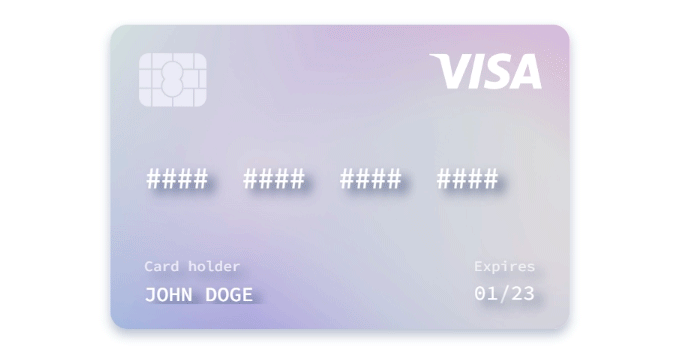 One of the missing pieces of our puzzle was the possibility to buy instantly, as bank transfers take from one to several days to reach us. With the launch of card payments, it became possible to catch the current price of a crypto instantly and buy it at the desired time.
Web version & service integration
Up to last year, our on/off ramp service was only available on mobile through Bridge Wallet. Since the launch of a web version on our website, our service became much more accessible to all of those who already used other wallet apps. The result is that today, it's close to half of our users who use the web version of our service.
That new version also allowed us to make our service easily integrable for any other project wishing to add a crypto buy/sell feature on their website or mobile app. Since we have launched that widget, many DeFi projects have adopted it such as StakeDAO, ShapeShift, THORWallet, Angle Protocol, Honeyswap, Ondefy and of course our partner Jarvis Network, and we thank all of them for their trust!
Jarvis and the jFiats
The possibility to swap fiats with jFiats with no fee up to CHF100,000 has obviously continued to fuel our growth in 2022.
We have also launched the support of jFiats on BNB Chain, which became the 3rd chain after Polygon and Gnosis Chain used the most by our jFiat users.
The new jAUD, jJPY, jSEK and jZAR stablecoins have also given us some exposure in their respective countries.
When the free jFiat program that was subsidized by Jarvis and ourselves came to an end on December 1st, no less than 3,000 unique users had exchanged more than $30 million worth of jFiats with us:
New stablecoins
In addition to the new jFiats mentioned above, we have also launched in 2022 many new other stablecoins: agEUR, EURL, EURC, EURS, EURT, FRAX, MAI, LUSD and XCHF. All of these stablecoins allowed us to gain exposure in their respective communities.
Mt Pelerin in Paris
For the first time in our history, we have participated to an event outside our borders by being present during EthCC5 in Paris with a party co-hosted with Jarvis and Ondefy. It has been the chance to discuss with many of our users, to meet in person those of you whom we only knew online, and to get to know many new persons. The outcome of that experience was extremely positive, and it has motivated us to increase our presence at that kind of event in the future!
The MPS
The price of the MPS on decentralized exchanges has been relatively calm during the year, with a stabilization around the $10 mark: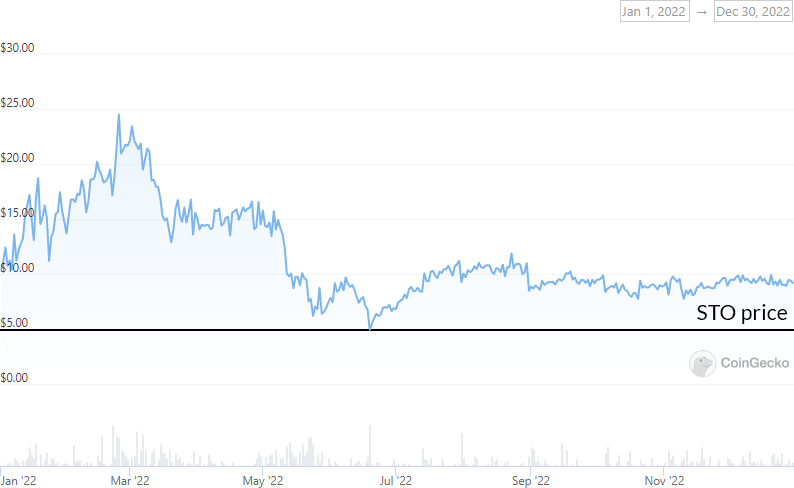 It doesn't mean that the MPS didn't have any activity, on the contrary! The number of MPS holders has continually grown to reach the 1,300 threshold today, it's 45% more than at the end of 2021!
We have also launched a few weeks ago an improved and augmented MPS benefit program, which will certainly contribute in the coming months to the active life of our tokenized share.
Our referral program
Available since end of November, our referral program hasn't had the time to show its impact in 2022, but we count on it to boost our growth in 2023. Don't forget to use it when you refer us around you!
And all the rest
Finally, we can also mention in our 2022 review the support of new fiat currencies in our on/off ramp service (AUD, DKK, HKD, JPY, NOK, NZD and ZAR), the support of the Rootstock network, the launch of our own Discord server, the crossing of the 200 live tokenized assets threshold on Bridge Protocol, many improvements brought to Bridge Wallet, and the NFT hunt campaign organized in Switzerland in partnership with the leading local newspaper Matin Dimanche.
A word on 2023
We have spent a good part of 2022 negotiating partnerships and paving the way for the next big evolution of our service. That upstream work done in the shadow will bear its fruits this year, and we can only invite you to subscribe to our newsletter and to follow us on social media to stay in touch with its launch!